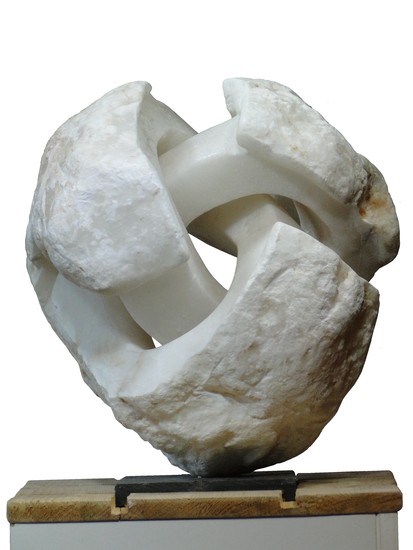 35 x 34 x 35 cm, © 2007, price on request
Three-dimensional | Sculpture | Stone
This is the first Trefoil Karel made after the famous etch of M.C. Escher. Escher explained to his good friend Bruno Ernst that he had much difficulty making this drawing. He made this one to follow in a sense his French friend Albert Flocon who was more intensively working with knots and trefoils. If he had known on beforehand what kind of difficulties he would have making this one he would never had started with it. Making the sculpture in 3-D is about the same, Escher's etch shows only one side of the trefoil. It was very difficult to imagine what was going on, on the opposite side. For me this was the start of developing and discovering complex geometries secretly hidden inside the stone. It is said about Karel's work that is well worth following these "pandemic primordial discoveries"