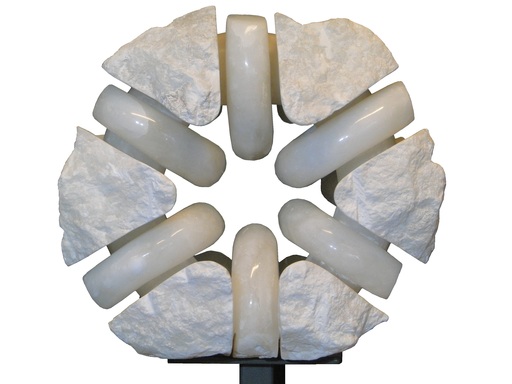 Karel was Born in 1951 in Wijchen. Without any instruction, he just started his search for forms inside stones 12 years ago in September 2003. Everything he knows about stone now, came to him during the sculpture process. Stone, in whatever form is for him the most beautiful material to work in.
The limited possibilities of the fragile material lead him to his own artistic boundaries. When things go wrong in stone, it is the end of the road.
In sculpting he is a self-taught person. Unlike most sculptors, he is only sculpting the inside of his stones, never the outside. In the beginning he made simple forms as balls, lenses, rings and cubes inside stones, now he continues to develop and uncover complex geometries secretly hidden in stone. Always on the inside of his stones, because it is his personal view that the original form and integrity of the stone must remain recognizable and intact even after the work is concluded.
Karel's work is strongly influenced by Escher, and lately also by one of the world's leading sculptors Keizo Ushio.
As the outside of the stones must remain as intact as possible, it is the end result that dictates the way of going into the stone.
As an artist he feels that he is uncovering the secret of the inner stone. Part creator but also as medium, he is giving the stone a voice and freeing its concealed character. Stone stands symbol for eternity and as mineral, it is a tangible link to physics and the forces driving the universe. Characteristic of most all his work is that the original form of the stone can be restored by filling the sculpture with wet sand in the same color as the stone.
In only 12 years he received worldwide recognition for his works, already received 2 international awards during the biennales of Florence 2009 and Chianciano 2011. And recently (2011) a book about his works was written by Bruno Ernst, the man who made Escher Famous. Recently someone said about Karel's work: "It is well worth following these 'pandemic primordial discoveries'".